Weddings at Chilli Barn
The Barn
Chilli Barn is a traditional Yorkshire stone barn unlike many others thanks to its comfortable size, picturesque rural setting near urban centres and sensitive conversion as a wedding venue.
---
Our materials and furnishings combine rustic charm with a touch of glamour, making Chilli Barn one of Yorkshire's most unique wedding venues.
The mezzanine level frames the stunning antique chandelier which hangs over the Barn's ceremony space, and creates the focal point of the Barn's interior. Downstairs is light, airy and the fairy light backdrop adds a little sparkle to the space.
The high-arched, south-facing glazed wagon door overlooking the meadows fills the ground floor and spacious mezzanine with light and the bi-folding double doors open wide giving direct access to the lawn.
Capacity
The Barn's size makes it ideally suited to couples looking for an intimate, informal wedding venue in Yorkshire, with a personal, friendly atmosphere and unique character.
From April to October, our maximum capacity is 60 during the day and 90 for the evening party, with the option to add an external structure such as a marquee or yurt, as a reception space or chill out area for guests.
Then, from late Autumn to early Spring (November to March), the Barn becomes a cosier, more intimate venue, holding up to 40 day guests and 90 evening guests.
Two-day Exclusive Hire
We believe you should have the opportunity to stretch your celebration for longer, and decorate the space to your exact requirements, so we offer an exclusive two day hire. To allow you to stretch celebration for longer, we allow you to have access to the Barn the day before you're wedding to set up.
This allows you to come with friends and family the day before your wedding to decorate the Barn yourselves, or see what your suppliers have created for you.
Whether it's floral arches or your reception teepee in the grounds, the Barn offers the perfect blank canvas for all your ideas.
Bespoke Packages
Our wedding hire rates in 2023 & 2024 range from £1,650 – £4,250; with our delicious vegetarian & vegan friendly wedding breakfasts starting at £45pp.
See our availability calendar for current hire prices.
Whatever your requirements, we offer planning guidance and support from the moment you come to look round right through to your wedding day and we have a community of trusted suppliers we can recommend to help make your special day exactly what you want it to be.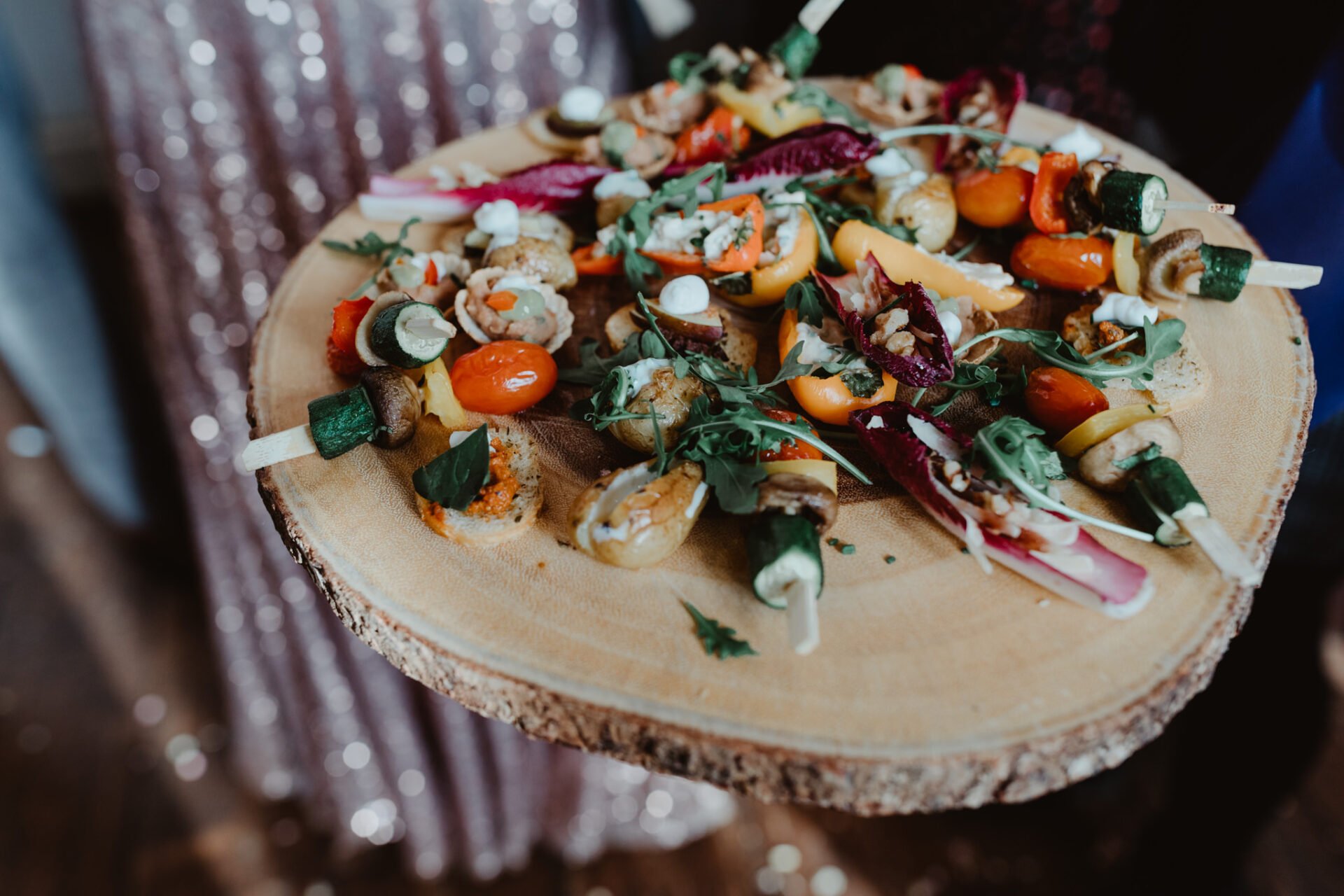 Food & Drink
Our popular vegetarian & vegan wedding breakfast menus are freshly prepared and cooked in Chilli Barn's own lower ground floor kitchen.
The classic British, Middle-Eastern and Far-Eastern themed family style sharing options, along with our mouth-watering three course plated dishes will excite and delight your guests.
We can also offer premium quality individual pies made with a choice of fillings including free range chicken or steak.
We have a well stocked bar with a wide range of wines, beers and spirits, many of which are organic, vegetarian and local. We can also serve a barrel of your favourite real ale from a local brewery!
Summer at Chilli Barn
From April – October, the Barn is light, airy and the garden & grounds come to life with beautiful climbing roses, wildflowers and rustic pots and planters creating a dreamy country garden feel. The lawn joins on to rolling grassy meadows as far as the eye can see.
We can accommodate outdoor wedding ceremonies, and weather permitting we can furnish the lawn with straw bales and a fire pit.
Extra space can also be added with a yurt, teepee or marquee.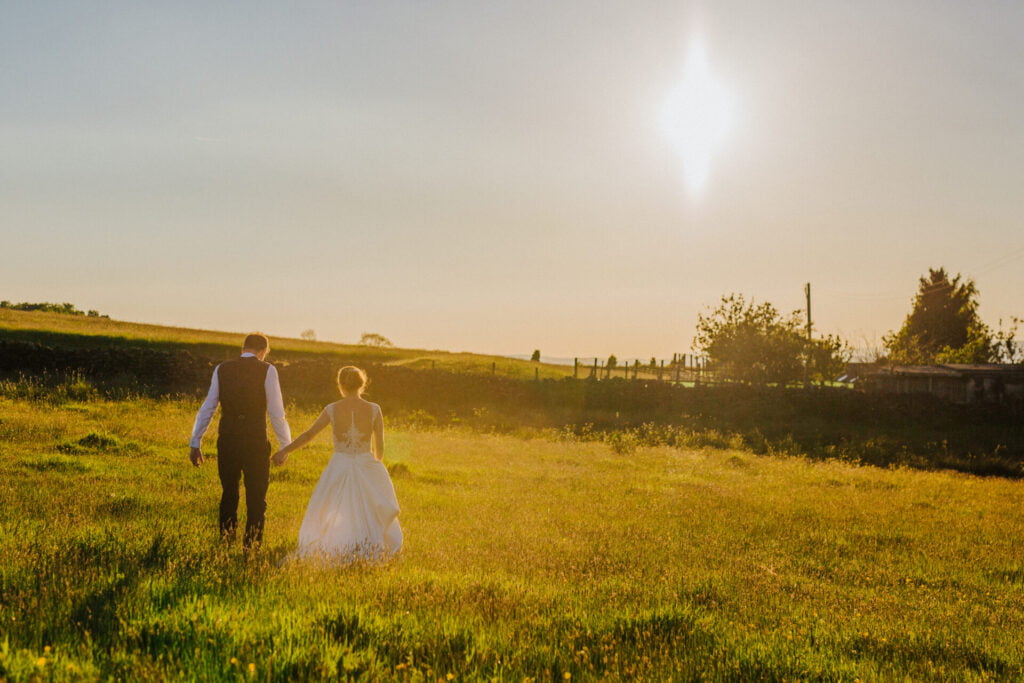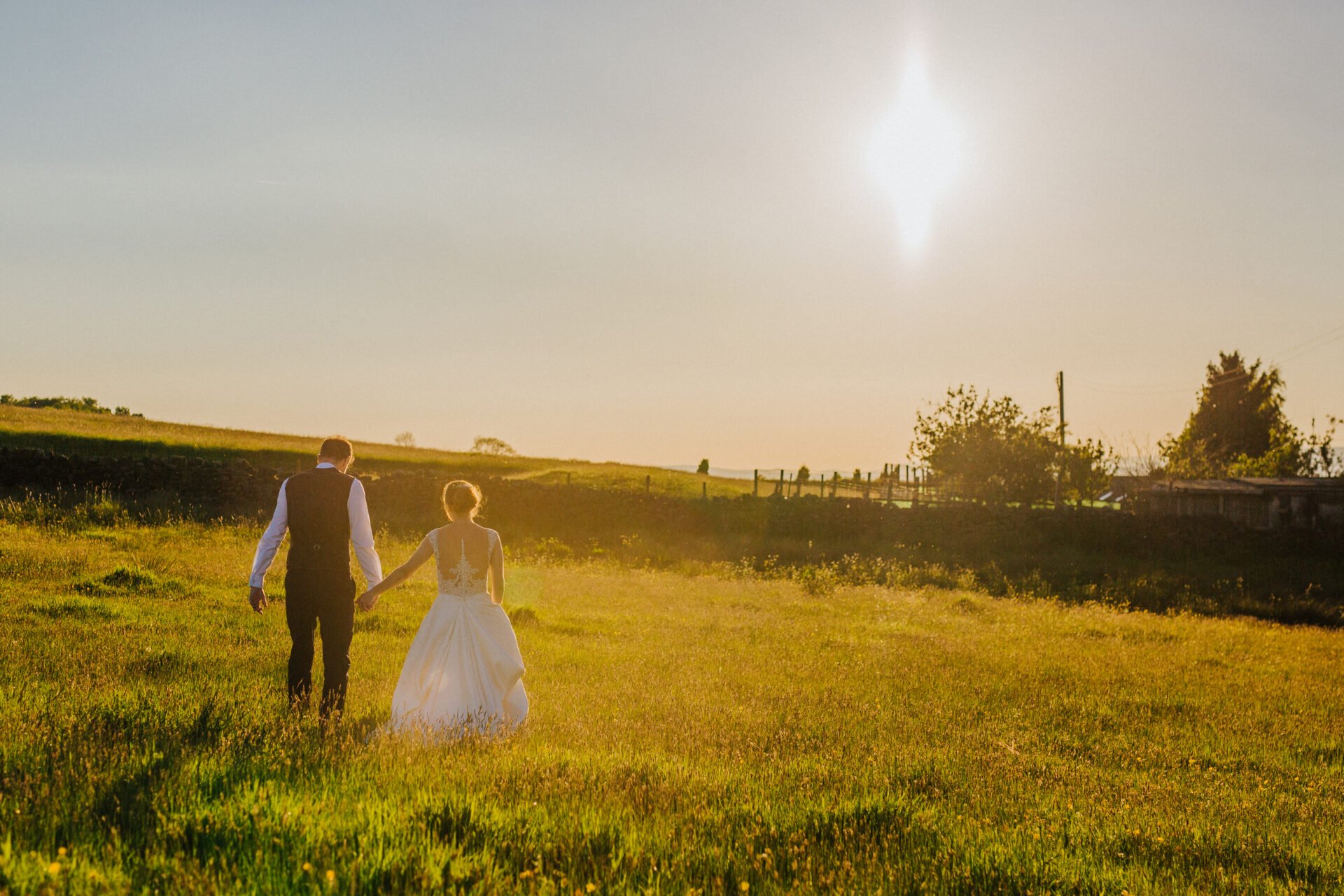 Winter at Chilli Barn
From November – March, Chilli Barn becomes a much cosier, more intimate space, offering our couples a relaxed & rustic wedding venue for up to 40 day guests and 90 evening guests.
The Barn's ceremony backdrop & upper level wooden beams are adorned with warm fairy lights which sparkle when the sun fades in the afternoon, and the chandelier dims for even more ambience, creating the perfect romantic atmosphere for your winter wedding.
During the festive period we can also decorate the indoor ceremony space with a beautiful real Nordmann Fir tree, giving your wedding a sprinkle of Christmas magic.
Setting & Surroundings
Chilli Barn sits high on East Chevin Road, just outside Chevin Forest and overlooks the Wharfe Valley and Lower Wharfedale. It is a special building which has been in our family for generations and once formed the centre of our family's working farm.
Local Area
Neighbouring Mistal Kitchen is a rustic & lively vegetarian cafe, also family owned. The Mistal is where you will find the set of Yorkshire stone steps which make for some beautiful wedding photography.
To the side of Chilli Barn is the family Farmhouse and grounds.
Over the road from the Barn is Chevin Forest Park. 'The Chevin' is a 700 acre nature reserve and makes for some spectacular wedding photography locations. Surprise View is a short drive and there are many trails and activities you and your guests can explore either side of your wedding day.
A stone's throw down the road from Chili Barn is Otley – a charming and traditional market town full of independent shops, cafes and pubs with a buzzing art & music scene.